Well hey, there…grab your cuppa + cozy up! You've landed on coffee + content, a bi-weekly round up of great content I've stumbled upon that make for interesting reads/views over my Sunday morning coffee. Got a great piece of content you'd like shared? Throw it in the comments below — but be sure to also share others'! Cheers.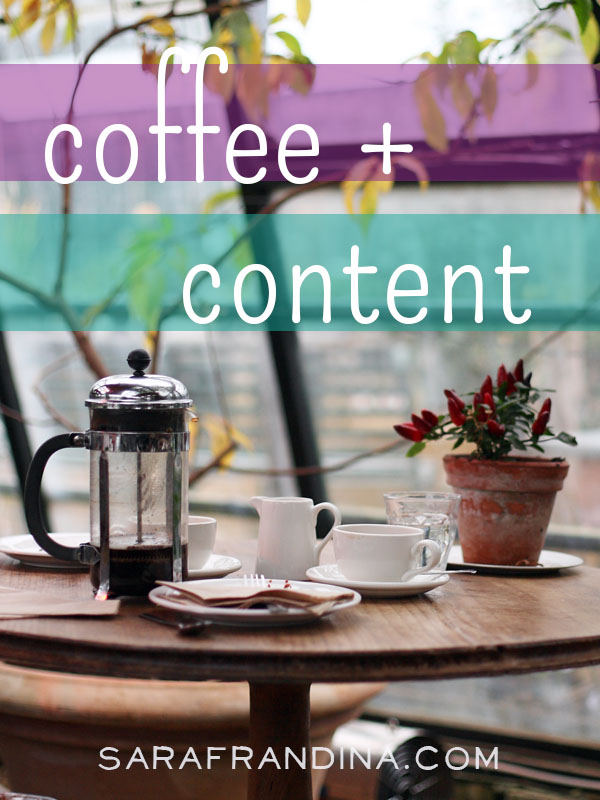 When it comes to minimalism…
9 Intentional Ways to Challenge Consumerism in Your Life: I've been fascinated by the concept of owning less so I can live more for a while now. I've already donated nearly 50% of my wardrobe, and did a massive clean out of our kitchen cabinets for unused appliances, duplicate dishes, and more, earlier this summer. But a huge part of embracing minimalism (whatever it might mean for you), is fighting the urge to keep bringing more into our life. That's why I love this post from Joshua Becker, author of The More of Less (which I read earlier this summer), and blogger at Becoming Minimalist. I especially like #6: Count the hidden cost of each purchase.
When it comes to your website copy…
Thank You Pages: Why & How To Take Advantage Of This Overlooked Page: When we think of website copy, it's easy to list off common pages — the home page, the about page, the services page, the contact page…But what about the thank you page? In this post on Ambition Ally, Nathalie Lussier breaks down the different types of thank you pages you might consider integrating into your website, and how to go about creating them. Gratitude attitude, friends. Always.
When it comes to productivity…
Are you just polishing the mailbox?: Kristen of Brand Camp drives by an old man polishing a mailbox and does what any good solopreneur does — turns it into a business lesson, then shares it. And I'm so glad she did — because I think we all fall into the productivity trap of doing the unimportant things (heyyyy, dishes) as we procrastinate the things that really matter. So, are you just polishing the mailbox?
When it comes to listening…
What Great Listeners Actually Do: Listening is about more than being an absorbent sponge — who knew? (I bet we all did.) But this article from HBR (a short but intelligent read) goes into the depth of what truly makes for a great listener — and how we can all aspire to different levels. My favorite reminder: The best conversations are active.
When it comes to the creative process…
On the Creative Process and Just Doing It Already: Erin, a #justwrite member, recently shared a link to this post she wrote over at Freelancing Mama, and I've kept it bookmarked ever since. Waiting for the perfect circumstances never got anyone anywhere, but just getting started sure did. In Erin's case, the time her writing has succeeded most is when she just did it. It prompted this realization, that can be applied to any creative work: "I just have to write. Sometimes it's brilliant and sometimes it's terrible. But I just have to keep doing it."
When it comes to reading…
Currently midway through (fiction): Signs of Portents by Lou Paduano
Currently midway through (non-fiction): Rework by Jason Fried + David Hansson
When it comes to inspiration…
"Nothing will work unless you do." — Maya Angelou
[Photo cred: Unsplash]
Note: Links within the coffee + content series may result in me receiving an affiliate commission. My promise to you: I'll only include affiliate links for resources that I truly feel can help you + your biz.