Well hey, there…grab your cuppa + cozy up! You've landed on coffee + content, a bi-weekly round up of great content I've stumbled upon that make for interesting reads/views over my Sunday morning coffee. Got a great piece of content you'd like shared? Throw it in the comments below — but be sure to also share others'! Cheers.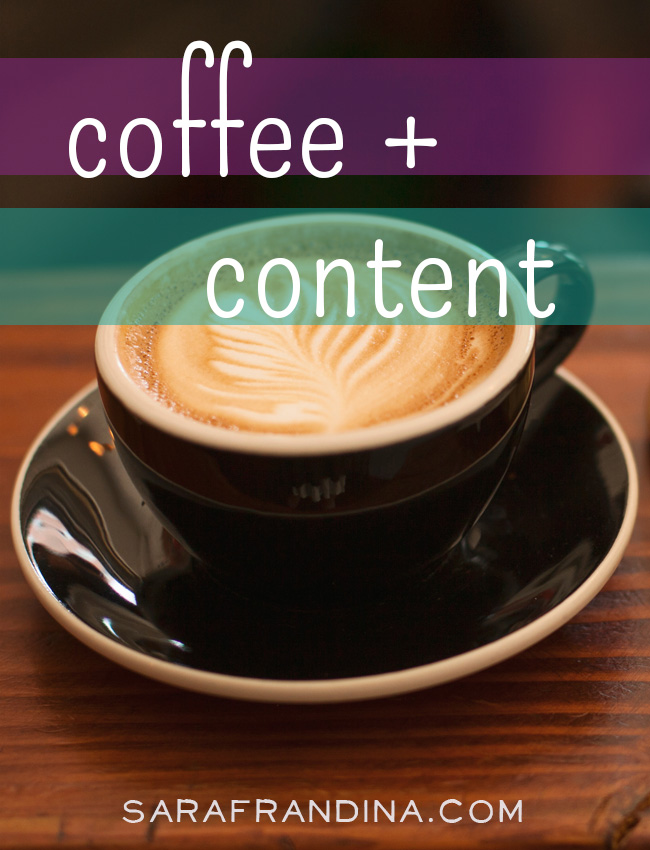 When it comes to real talk…
Real Talk Radio with Nicole Antoinette: This is up there as one of my favorite podcasts to listen to on my daily walks because of the unscripted, casual, but deeply insightful conversations that Nicole has with her (incredible) guests. My top episodes so far: Paul Jarvis, Alexandra Franzen, and Ash Ambirge. Maybe because they're three of my entrepreneur idols; maybe because they're just genuinely awesome. I've got loads more to listen to, and can't wait.
When it comes to what makes your blog tick…
nerd alert from tiny blue orange: What do you get when you put a total WordPress pro together with a super nerd? One of my favorite online people to follow: Alison Monday of tiny blue orange. I've got a serious crush (okay, and reliance) on her nerd alert column, where she shares DIY tutorials (and more) for WordPress. Those enviable branded social sharing icons you see at the bottom of this post? Yeah, I have Alison to thank for that.
When it comes to being a (strong) female…
A Story of a Fuck Off Fund: This is what I want every girl, every where to read, so I'll just leave it right here, where Paulette Perhach says it perfectly: "You want to be, no, you will be the kind of woman who can tell anyone to fuck off if a fuck off is deserved…"
When it comes to being "authentic"…
The dark side of voice: authenticity vs. sensitivity: "Authenticity" is little more than a buzzword these days, but the meaning behind it stands: In life and in your writing, it's important to do you. Yet, there is a line — especially when you're running a business. Abbey at Life and Writing shares the risk of using the "Friend at the Bar" voice, and what you can learn from AppSumo's mistake.
When it comes to doing business…
11 Things I Wish I Knew When I Started My Business: An oldie, but goodie: I read this post from Stephanie St. Claire for the first time a few years ago, right when I started freelancing, and I've had it bookmarked ever since. Each time I re-read it, it seems I've learned one the lessons I could've just taken from her all that time ago. Do I think we need to experience these things to really learn? Yes, most of the time. Do I think it's still worth reading other people's riffs on their experiences? Double yes.
When it comes to reading…
Currently midway through: The Night Circus by Erin Morgenstern
Currently midway through: Bird by Bird by Anne Lamott
Finished: The More of Less by Joshua Becker
On deck, in the life department: The Four Agreements by Don Miguel Ruiz
When it comes to inspiration…
"You can't wait for inspiration. You have to go after it with a club." – Jack London
[Photo cred: UserThink]
Note: Links within the coffee + content series may or may not result in me receiving an affiliate commission. My promise to you: I'll only include affiliate links for resources that I truly feel can help you + your biz.