Well hey, there…grab your cuppa + cozy up! You've landed on coffee + content, a bi-weekly round up of great content I've stumbled upon that make for interesting reads/views over my Sunday morning coffee. Got a great piece of content you'd like shared? Throw it in the comments below — but be sure to also share others'! Cheers.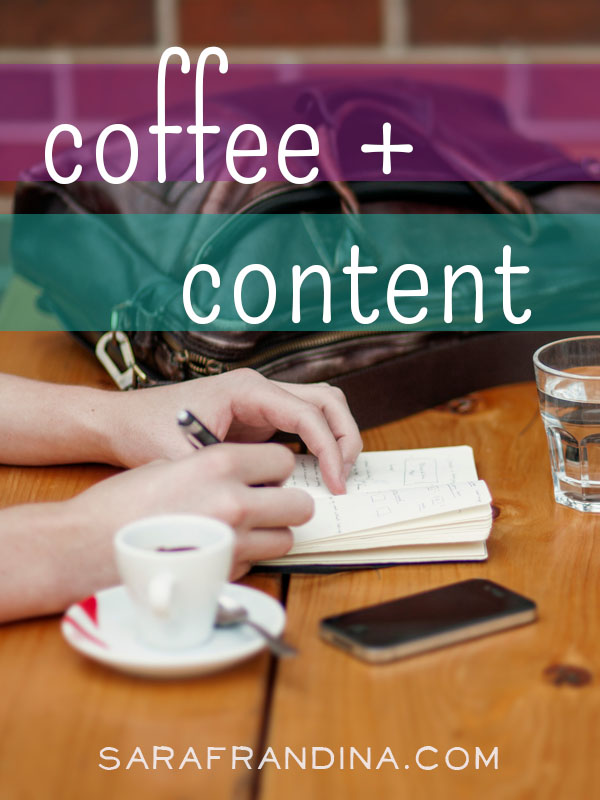 When it comes to doing business…
You're being lied to about what it takes to build a successful business online: Mallie not only nails what it really takes to build a successful business — and be an epic CEO — in this post, but she also hits on some of the major struggles (love the term, "pre-crastinator") we experience, as well. Read this. And remember: "You've got to walk before you can run."
When it comes to complexity + comparison…
Simple Often Wins: This is a post I come back to often, especially when I start to over-complicate either my own business or One Woman Shop, and even more often when I fall into the comparison trap. In it, Chris Brogan reminds of us a few key things: 1.) "Business is simple. We make it complicated for some unknown reason." and 2.) "No one ever won a race looking sideways."
When it comes to deciding whether to hire a freelancer…
Marketing: Hire a freelancer, an agency, or do it yourself?: I will forever make the case for hiring freelancers — and I'm not the only one. Take it from my friend + colleague, Joel Klettke: Freelancers aren't just a great option when money's tight. Here are three things to consider that will help you next time it's time to outsource.
When it comes to SEO…
The SEO food pyramid: Ever wonder what goes into the elusive monster that is generalized as SEO? I love this "food pyramid" breakdown from William Harris over at Elumynt. Warning: It has a lot of outbound links to more reading — figure out what you need to brush up on then take what you need, leave the rest for later. Baby steps, friends.
When it comes to productivity + automation…
8 IFTTT recipes to automate your solo business: There are a few often-talked about ways to save time in your business, but for all things automation, I turn to Brittany Berger at Blog Bolder. Her IFTTT recipes target the seemingly small things that add up — and make you work smarter, not harder. I just set up my first IFTTT recipe (using Gmail + Slack) and I'm in love.
When it comes to reading…
Currently midway through: Still Alice by Lisa Genova
Currently midway through: The Four Agreements by Don Miguel Ruiz
Just finished: The Night Circus by Erin Morgenstern
On deck, in the biz department: Bird by Bird by Anne Lamott
When it comes to inspiration…
"Either write something worth reading or do something worth writing." – Benjamin Franklin
Photo cred:
UserThink
]
Note: Links within the coffee + content series may or may not result in me receiving an affiliate commission. My promise to you: I'll only include affiliate links for resources that I truly feel can help you + your biz.