Well hey, there…grab your cuppa + cozy up! You've landed on coffee + content, a bi-weekly round up of great content I've stumbled upon that make for interesting reads/views over my Sunday morning coffee. Got a great piece of content you'd like shared? Throw it in the comments below — but be sure to also share others'! Cheers.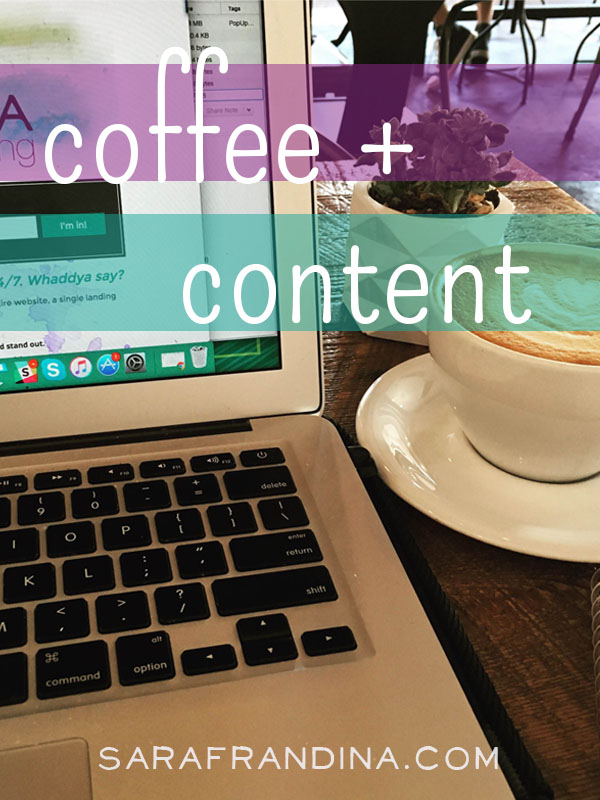 When it comes to happiness…
How to Figure Out What Makes You Happy: It's typically safe to say that you want to be happier. I want to be happier. I'm taking a page from Sarah Von Bargen of Yes and Yes' book, and focusing on intentionally recognizing those moments I find myself most happy (i.e. sitting on my front porch with a book on a 75-degree, sunny day with a slight breeze) and "lovingly dissecting them" so I can make them more regular.
When it comes to priorities…
On saying "no": After reading Essentialism earlier this year and being hit over the head with the realization that if I don't determine my priorities, other people will, articles like Seth Godin's to-the-point post on saying "no" have permanent bookmarks on my digital shelves.
When it comes to feeling inadequate…
How to Battle Impostor Syndrome: Owning Your Writing as Art: I can't do this post justice in this short blurb, but here's the reminder I think we can all use: "…resist the reflex to belittle your ability and accomplishments. The hidden agenda of self-scorn gets in the way of the work you want to write and the connections you want to make." Marian Ryan shares her story — and how she overcomes imposter syndrome over on The Write Life.
When it comes to gratitude…
Make Your Life Better by Saying Thank You in These 7 Situations: We don't hesitate to say we're sorry (especially us ladies), yet most of us probably aren't saying "thank you" nearly enough. In this post, James Clear offers seven times when a thank you can make a world of difference. (They probably aren't what you think.)
When it comes to the "shoulds"…
Why Even Smart Advice Is Wrong at Least Half the Time: Dear fellow solopreneur: How often do you do something because you feel like you "should" — because you read that someone else did, or someone told you to, or it's "just the way it's done?" I'm guilty. That's why I appreciate an article like this, where author Dixie Gillaspie allows us to recognize that not all advice is fit for us, and encourages us to ask, "What do I really have to do?"
When it comes to reading…
Just finished: Still Alice by Lisa Genova
Just finished: The Four Agreements by Don Miguel Ruiz
On deck, in the life department: How to Be a Woman by Caitlin Moran
On deck, in the biz department: The Thank You Economy by Gary Vaynerchuk
When it comes to inspiration…
"I read hungrily and delightedly, and have realized since that you can't write unless you read." – William Trevor
Note: Links within the coffee + content series may or may not result in me receiving an affiliate commission. My promise to you: I'll only include affiliate links for resources that I truly feel can help you + your biz.