Well hey, there…grab your cuppa + cozy up! You've landed on coffee + content, a bi-weekly round up of great content I've stumbled upon that make for interesting reads/views over my Sunday morning coffee. Got a great piece of content you'd like shared? Throw it in the comments below — but be sure to also share others'! Cheers.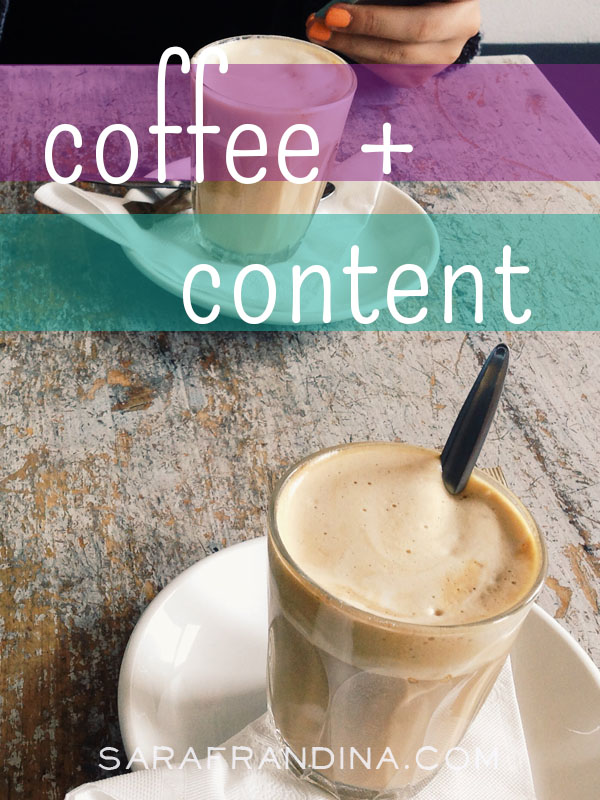 When it comes to SEO…
Google's New Popup Penalty & What it Means: If it isn't Facebook announcing something that makes everyone pull their hair out, it's Google. And the truth is, we need to pay attention: Google's new "Popup Penality", as Kim Herrington refers to it in this post, is going into effect in January, 2017, and while it applies directly to mobile search results right now, it's worth paying attention to for all sites if you care about your SEO.
When it comes to being a female…
You Were Not Taught To Be Ambitious, But That Shouldn't Stop You: Ladies, listen up. Our abilities are not established at birth. Whether or not we realize it, the praise we hear and the things we're told as we're growing up — even those compliments like "you're so smart" — could be limiting our potential. In this article for Her Agenda, ChaChanna breaks down what fixed praise is and how ladies' confidence tends to dwindle as we get older.
When it comes to productivity…
6 Questions That Can Eliminate Busywork And Boost Your Productivity: I find the times I let my productivity slip are the times I actually let myself get into too much of a routine — and these six questions are fantastic for prompting me to question what's important. While each one brings up a ton of different thoughts for me, I particularly like this idea: "Try delegating enough activities to suitably skilled employees to free up 20% of your time to experiment with new ways of working, or engage with customers to learn how you might tweak your services to serve those customers better."
When it comes to taking yourself seriously…
Taking Yourself Seriously Doesn't Mean You Have To Be Serious: It's all too easy for us to think that by taking ourselves seriously, we'll suddenly become Cruella Deville. So glad Kate Northrup drew her line in the sand, and shared it so we can, too. The standout line for me: "I figured out that I didn't have to choose between being a professional and enjoying the hell out of running a business."
When it comes to being a millennial…
The Truth about Being a Millennial Parent: "Millennials." As Gael points out in her post for Miss Millennial, it's pretty much the equivalent of a curse word. Especially when it comes to the workplace. But what's said for being a millennial parent? Not enough — and it's a conversation Gael's ready to get going. As someone who hopes to be part of the group in the future, I can't thank her enough.
When it comes to reading…
Currently midway through: Signs of Portents by Lou Paduano
Currently midway through: Rework by Jason Fried and David Heinemeier Hansson
Just finished: Hilda: Tackle Your Inner Naysayer, Get Out of Your Own Way, and Unleash Your Badassery by Coach Jennie
When it comes to inspiration…
"You didn't come this far to only come this far." (h/t, Coach Jennie)
Photo cred:
Chiara Pinna via Unsplash
]
Note: Links within the coffee + content series may or may not result in me receiving an affiliate commission. My promise to you: I'll only include affiliate links for resources that I truly feel can help you + your biz.