Well hey, there…grab your cuppa + cozy up! You've landed on coffee + content, a bi-weekly round up of great content I've stumbled upon that make for interesting reads/views over my Sunday morning coffee. Got a great piece of content you'd like shared? Throw it in the comments below — but be sure to also share others'! Cheers.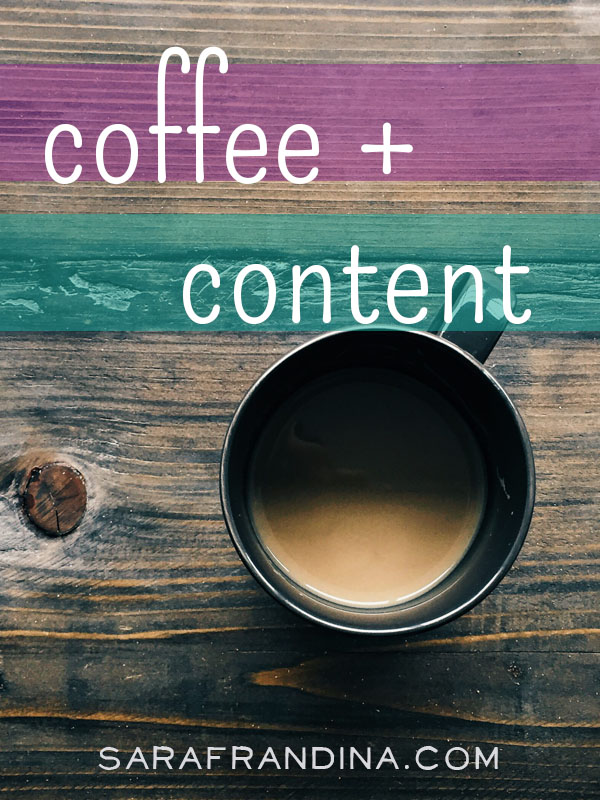 When it comes to being a writer…
Yes, Virginia, Writing Is Too A Job: Hesitating to call yourself a writer? Read this. One of many highlighted parts: "Writing is a job. And to suggest it's anything other than that gives in to the persistent myth that writing is some kind of joy-fueled reward factory, where the writing alone is enough to feed itself. Where we pretend that starvation and sadness are implicit to the role, and that getting paid is so rare and so strange we can't even call it a job or a career anymore. That's dangerous. Starvation is not a requirement. Starvation is not sexy." (H/t to ChaChanna for sharing this in our #justwrite group.)
When it comes to telling stories on social media…
Are Instagram Stories a Better Home For Content Than Snapchat?: Truth…I just "figured out" Snapchat on a trip to Nashville earlier this year. Meanwhile, Insta releases Stories and now I'm all torn on which to use, when. This article, which points out that "There is a growing movement of advertisers who consider Instagram Stories to be a genuine improvement over its predecessor," takes a look at the facts and might just sway you to stick with the 'Gram for both those swoon-worthy food shots and your brand storytelling.
When it comes to being an explorer…
Why You Need to Try New Things + How to Create a 'New Things' Practice: I've talked about how travel is so important to me because the immersion into worlds full of new things opens my mind, gives me more awareness, and makes me appreciate the home I've built where I am — and Sarah Von Bargen would argue that you can get all those benefits (+ more) from having a "new things" list. My favorite thought: "Routines speed time. Novelty slows it." Yes.
When it comes to SEO…
How Content Can Improve With Age — 5 Reasons Why Older Web Pages Still Matter: Anyone read this title and immediately want to grab a glass of red wine? Anyway…If you take anything away from it, I'd encourage it to be this: "…focus on creating GREAT content that reflects your niche and targets your demographic, and you can always re-jig the articles in the future if you need to." SEO is tricky, and content can feel forced to play along. But it's important to remember that not everything you create has to be evergreen if you take the time to update it.
When it comes to being a woman…
Kristen Bell Has The Cheap Labor Your Company Is Looking For: Women!: No words needed. Just watch.
When it comes to reading…
Currently midway through: Rework by Jason Fried and David Heinemeier Hansson
On deck, in the biz department: Bird by Bird by Anne Lamott
Just finished: Signs of Portents by Lou Paduano
When it comes to inspiration…
"Imagination is like a muscle. I found out that the more I wrote, the bigger it got." – Philip Jose Farmer
Photo cred:
Andrew Welch via Unsplash
]
Note: Links within the coffee + content series may or may not result in me receiving an affiliate commission. My promise to you: I'll only include affiliate links for resources that I truly feel can help you + your biz.