Well hey, there…grab your cuppa + cozy up! You've landed on coffee + content, a bi-weekly round up of great content I've stumbled upon that make for interesting reads/views over my Sunday morning coffee. Got a great piece of content you'd like shared? Throw it in the comments below — but be sure to also share others'! Cheers.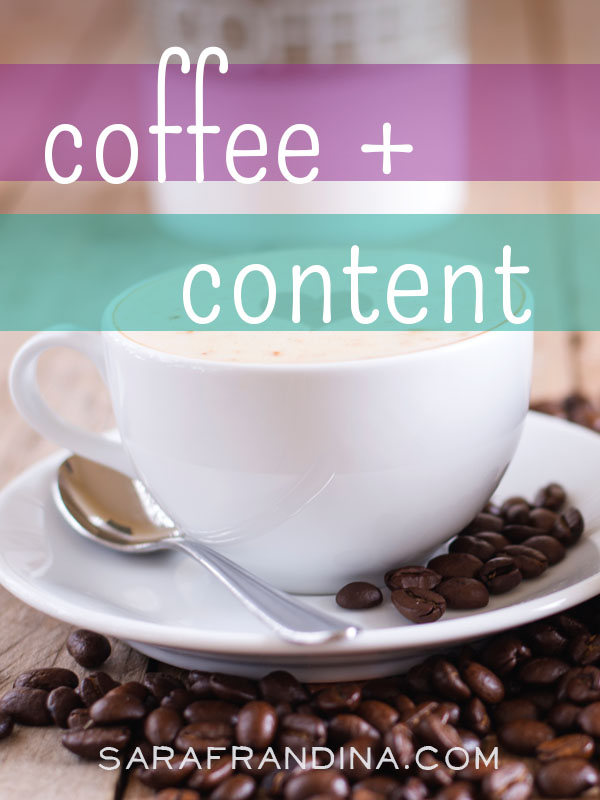 When it comes to reading (more)…
How to Read 50 Books a Year, in 7 Easy Steps: My favorite (obvious) answer? Read in small chunks. (It's why I have a paperback with me at all times.) But I also learned a lot of new ideas here — I'm amazed by Spritzlet; just not sure how applicable it'll be for me. And I'm just not sure I can get behind Technique #2…but decide for yourself in the full article on the Zapier blog here.
When it comes to creative blocks…
13 Ways To Find Your Creativity When You're Sure You've Lost It For Good: Creative blocks are all too real, friends. As Val shares, it's why us freelancers have jobs, but it's also the cause for hair loss, everywhere. (That's my addition.) So next time you're staring at the blank page with a blank mind, check this list out. My go-to = #6. Every day. (Maybe I'm part Scandinavian?)
When it comes to being a woman…
The Western Woman Can Save The Planet — But She Must Save Herself First.: The fear of taking time off and chronic overworking? All too prevalent, especially for women. Pamela Brannon makes a fantastic point that us women might easily forget: "I have learned that we often do more damage to ourselves than the world could ever inflict upon us." Remember: You cannot pour from an empty cup. In other words: Treat yo' self. (So you can treat others.)
When it comes to minimalism (in business)…
7 Questions I Ask as a Minimalist Business Owner: Minimalism extends beyond the closet, friends. I am absolutely in love with Amy Lynn Andrews' take on maintaining minimalism in business. As a naturally high-stress individual (yep, me), simplification is key. Amy's seven questions belong on a Post-It note on monitors, everywhere. (And if you haven't signed up for her Useletter yet, do yourself a favor and do it up.)
When it comes to copywriting…
3 Unusual Techniques That Can Revive Your Copywriting: Have you ever discovered (or re-discovered) a word, only to use it incessantly for a while? In your personal life, it might be aggravating, but for a copywriter, it can be detrimental — because not everything can be described as "chic," even if it is. That's why I love Wendy's three out-of-the box ideas over on The Write Life for expanding that vocabulary. (Just keep your credit card tucked securely away for her first tip.)
When it comes to reading…
Currently midway through: Rework by Jason Fried and David Heinemeier Hansson
On deck, in the biz department: Bird by Bird by Anne Lamott
Just finished: The Giver by Lois Lowry (Fun fact: This was a re-read. It was read to me when I was young, and my mom "edited" portions of it because of my age. Let's just say it blew my mind.)
When it comes to inspiration…
"A word after a word after a word is power." – Margaret Atwood
Photo cred:
Andrew Welch via Unsplash
]
Note: Links within the coffee + content series may or may not result in me receiving an affiliate commission. My promise to you: I'll only include affiliate links for resources that I truly feel can help you + your biz.