Well hey, there…grab your cuppa + cozy up! You've landed on coffee + content, a bi-weekly round up of great content I've stumbled upon that make for interesting reads/views over my Sunday morning coffee. Got a great piece of content you'd like shared? Throw it in the comments below — but be sure to also share others'! Cheers.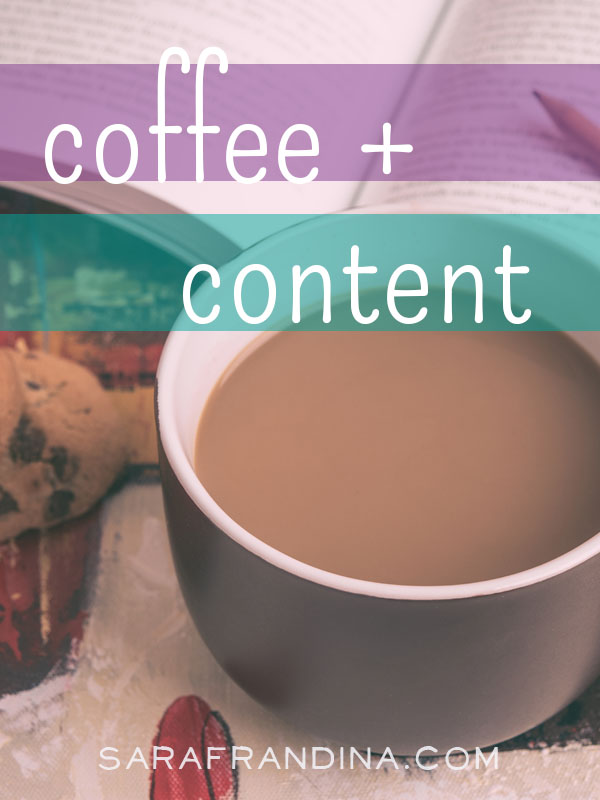 When it comes to relationships…
The Perfect Spouse Is the Best Life Hack No One Told You About: When I first saw this headline, I gagged a bit. (Despite being married, I can't help but feel a little said when people define themselves based on their relationships.) Then, I read it — and I shut my little mouth. Because Ryan Holiday is right: finding a partner who supports, pushes, and betters you is the ultimate "life hack." And as Pete and I approach our third anniversary in just three days, I can't help but feel solidly blessed to have found someone who fits the description.
When it comes to play…
How to Encourage More Imaginative Play: Whether you're a parent or not, I can pretty much guarantee this post will resonate with you. I love Amanda's take on bringing more imaginative play into kids' lives — especially in a time where tech rules all — and miss when boxes used to transform into an endless supply of entertainment.
When it comes to telling stories on social media …
How to Use Instagram Stories + 6 Ideas for What to Share: Just two c+c editions ago, I shared an awesome article from ProBlogger on whether Instagram Stories are a better home for your content than Snapchat (I'm sold), but I thought I'd bring it back again with this fantastic, in-depth article from Sarah Morgan that walks you through how to use them, and when to use them. (I'm still flexing my muscles there…)
When it comes to doing business…
The Lazy-Ass Manifesto: How to Take Personal Days Without Dying of Guilt: Hands raised high for this –> "We get so caught up in our own neuroses – not to mention our clients' emergencies – that we forget that creativity cannot be forced, that mental energy is a limited resource, and that you have to go walk the world for a spell before you can feel inspired enough to do work that matters." Thank you, Mike. Freelancers; solopreneurs; business owners: Permission = granted to take a day off once in a while. (And not beat yourself up about it.)
When it comes to the truth behind making money…
My First $10,000 Month and the Truth About What It Took to Get There: As a freelancer/solopreneur, we can all be tempted by the promise of five-figure months and "six-figure" launches — but Shannon's story of her first $10k month is the perfect showing of the truth that Maya Angelou so perfectly shared: Nothing works unless you do. My favorite takeaway of Shannon's: "I have to guard my time and be careful not to make other people's priorities my priorities."
When it comes to reading…
Currently midway through: The Good Neighbor by A.J. Banner
Currently midway through: Rework by Jason Fried and David Heinemeier Hansson
Just finished: The Giver by Lois Lowry
When it comes to inspiration…
"Your attitude, not your aptitude, will determine your altitude." – Zig Ziglar
Photo cred:
Padurariu Alexandru via Unsplash
]
Note: Links within the coffee + content series may or may not result in me receiving an affiliate commission. My promise to you: I'll only include affiliate links for resources that I truly feel can help you + your biz.