Challenge: Booming SaaS startup out of Raleigh, N.C. Very technical topic (artificial intelligence in financial services). Needed clear way of communicating value prop.
Solution: In-depth research, including team interviews, client data mining, and industry research to hone in on the messages that matter most in giving clarity to the software and addressing the hesitations of financial asset managers.
Results:
Clear value prop and messaging that the team has been able to use in positioning Trill to potential partners, investors, and clients
Site designed and project coordinated by Snark Studios.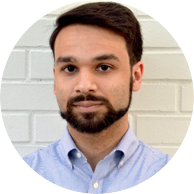 "Sara is a sharp and versatile copywriter. We needed to make a very opaque and technical topic seem approachable and exciting to invite inbound leads from our website and still give the impression of a growing technology startup. Sara was fastidious and creative. She took a deep dive to understand our technology and value proposition as well as our brand's positioning and the company personality. She was able to combine all of this into an excellent finished product that reflects who we are and what we do in a clear and engaging way."
Akash Ganapathi
Trill A.I.