How might your business use landing pages?
Let us count
(a few of)

the ways…

The long-form sales page
Join the conversation that's happening in your reader's head, then take them to the place of highest intent to buy.

The thank you page
Show your gratitude for your reader's action, then don't miss the opportunity to tell them exactly what to do next.

The shopping cart
Reinforce your reader's buying decision with elements that make them grab their wallets, faster.

The opt-in page
Position your offer as the smartest move your reader can take and make sharing their email a no-brainer.

The registration page
Give your reader exactly what they need to know that your webinar/summit/event is not to be missed.

The sign-up page
Invite new users in for free trials, demos, or test drives with sign-up pages that start the nurturing off right.
There's an action you want your visitors to take. I'll write the page that encourages it.
No matter where your landing page falls in your marketing funnel, we'll optimize it to meet readers exactly where they are and get the right prospects acting on your offer.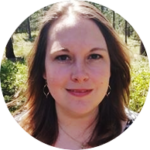 "Sara is the best at what she does. She took the time to get to know my business and what I needed — and was spot on with each page she wrote for me, the first time around."
Betsy Schantz
Serenity Bodyworks & Massage
Less stress. More smiles.
(And sales.)
See the difference in your business (and on your bottom line) when you invest in landing pages that inspire more hell yeses.